Itty Bitty Ballet – Ballet and creative movement class for 2-3 year olds. Class will be completed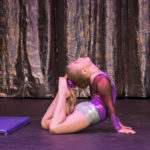 independently (without a parent in the room). Parents must remain in the lobby for the duration of the class.

Bitty Ballet  – Creative ballet class for our youngest dancers ages three and four. Dancers will learn basic ballet terminology as well as important skills such as listening to instructions, taking turns, and how to express yourself through dance!
Dress code: any color leotard/dance dress, tights and pink ballet slippers.
45 minutes

Ballet/Tap PreCombo – Tap and ballet combination for students one year away from kindergarten.
Dress code: any color leotard/dance dress, tights, pink ballet slippers, slip on, velcro or buckle (no ties!) black patent leather tap shoes.
45 minutes

Ballet/Tap Combo 1 and 2 – Tap and ballet combination class for 5 to 8 year olds.
Dress code: any color leotard/dance dress, tights, pink ballet slippers, slip on or buckle black tap shoes. 
1 hour

Hippity Hop – Introductory hip-hop class for 5 to 8 year olds.
Dress Code: Any dancewear- dance top, jazz shorts/pants, leggings or sweat pants. CLEAN tennis shoes.
1 hour

Tap/Jazz 1-2 – Tap and jazz combination class for dancers ages 8 and up.
Dress code: Any form fitted dancewear. Leotard/dance top, jazz shorts/pants, leggings. Tan slip on jazz shoes, black lace up oxford tap shoes

Lyrical – Ballet and jazz fuse together to form this expressive style of dance. Lyrical is open to dancers ages 8 and up. Enrollment and attendance in jazz, ballet or turn leap and jump is required. Dress code: Any form fitted dancewear. Leotard/dance top, jazz shorts/pants, leggings. Tan jazz shoes.
1 hour

Turn/Leap – Jazz class focusing on developing technical skills. Open to dancers ages 8 and up.
Dress code: Any form fitted dancewear. Leotard/dance top, jazz shorts/pants, leggings. Any color jazz shoes. 
1 hour

Hip Hop – Upbeat street style dance. Open to dancers ages 8 and up.
Dress code: any loose dancewear that does not prohibit free movement. Dance top, jazz shorts/pants, leggings or sweat pants. CLEAN tennis shoes.
1 hour

Ballet – Traditional ballet class. Dancers will start at the barre and move to the center.
Dress code: any color leotard, pink tights, skirts optional. Canvas or leather pink ballet slippers. Please be sure elastics are sewn securely and strings are tied and tucked in. Hair should be secured back into a neat bun.
1 hour

Tumbling – Class focusing on gymnastic tumbling moves.
Dress code: form fitted dancewear- leotard, biketard, dance top, dance shorts. Dancers should be barefoot.
1 hour

Skills required for each level:
Pre Tumble: no experience necessary
Beginning: participants should be working towards backbends and cartwheels
Intermediate: participants should be able to go down into a backbend and come back up, and should have cartwheels, somersaults, and dive rolls
Advanced: participants should have all of the Beginning and Intermediate skills plus back and front walkovers

Adult Tap – Tap class geared towards adults!  Fun, fitness and friendship are the goals!  No dance experience necessary.
Dress code: Any comfortable clothing and tap shoes.
1 hour

Werq– Teen/Adult dance fitness.  Sweat to your favorite pop songs in this fun dance class!  No dance experience necessary.  Lights are turned down low, so you can really Werq it out!
Dress code: Any comfortable workout clothing and clean tennis shoes. A water bottle and sweat towel are recommended!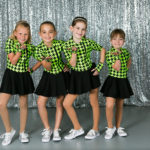 Company Classes – Company dancers are elite dancers ready to take their training to the next level! Company dancers compete in local and national dance competitions and other community events throughout the year. Dancers are selected through an audition process. If you are interested in being a member of the Ovation Dance Company and missed the audition, please contact Miss Alex at alex@ovationdancekc.com. For more information, visit the Company tab on our website.
Dance Conditioning – Class focusing on strength, endurance and flexibility for dancers. Required for all Junior and Teen Company dancers, and open to everyone!