Alex Hess
Owner and Director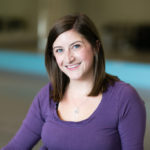 Ovation Dance Academy has been a dream of Miss Alex's all of her life, and she loves sharing her talent and passion with all of her students. Alex began her dance training as most dancers do, in a pink tutu at four years old. She quickly became passionate about all styles of dance and was no stranger to the stage. Alex loved any opportunity to perform whether it was in dance competition, community event, or a musical! She has performed in musicals at Shawnee Mission South, Shawnee Mission Theatre in the Park and Music Theatre Kansas City (formerly Music Theatre for Young People). As she grew up, Alex began to realize her talents could extend beyond the stage. Alex took on the role of dance teacher and choreographer while she was still a high school student! As a captain of the Shawnee Mission South Varsity and Junior Varsity dance teams, she was able to begin honing her leadership skills that continued to develop as a captain and choreographer for the Baker University dance team. As captain of the Baker Dance Team, Alex led her team to their first NAIA national dance championship. After receiving her degree in Exercise Science from Baker University, Alex began teaching,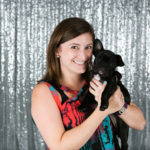 choreographing, and coaching in the Kansas City area. She has been the head coach of both the Shawnee Mission South Pacesetters and the Blue Valley Southwest Glitter Girls. In 2016, she coached the BVSW Glitter Girls to a 7th place finish in Team Performance and a 9th place finish in Jazz at the National Dance Alliance High School National Championship. She has instructed hundreds of students as choreographer of the Indian Hills Middle School musicals. Her choreography has also been seen on stage at local and national dance competitions. She is known for her passion and love for dance and her students.
Kate Jaros


Kate Jaros found her lifelong passion for dance at three years old.  Her childhood was spent training at Somerset Ballet Centre under the direction of the late Ms. Jane Pierce. Kate developed a love for jazz, hip hop and lyrical during her time as a four year member of the Shawnee Mission South dance team, the Pacesetters. Participation in musicals also began in high school, which also brought her to the Shawnee Mission Theatre in the Park stage. Kate attended Baker University where she was a four-year member and captain of the Baker Dance Team. Under her leadership as captain, the team grew and flourished. Kate received her Bachelor's Degree in Elementary Education and her Master's Degree in School Leadership from Baker University. She has been a kindergarten teacher, Reading Specialist, and is now an Innovation Specialist in the Shawnee Mission School District. Kate loves educating children in the public school atmosphere and the dance studio. She has been a dance instructor and coached the Shawnee Mission South Pacesetters with her sister, Miss Alex. Ovation Dance Academy is thrilled to have her expertise and passion on our staff!
Michaela Jamison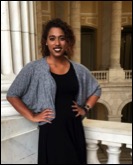 Michaela Jamison began dancing at two years old as a way to occupy her overactive feet!  She began competing at the age of six and fell in love with jazz, tap, ballet, and hip hop at Dixie Bell Dance Center in Shawnee, KS.  She continued her training at LE Dance Studio in Stilwell, KS, adding lyrical, modern and musical theatre to her repertoire.  She joined the dance team at Mill Valley High School and continued to grow as a dancer.  She has appeared in many musical theatre productions at Shawnee Mission Theatre in the Park including The Wedding Singer, Aida, All Shook Up, Legally Blonde: the Musical, and Hairspray. Michaela is a graduate of Baker University. She was a member of their NAIA Collegiate Dance Team, serving as captain the past two years. Michaela has political aspirations, and hopes to return to our nation's capital to pursue a career in politics.  Michaela's experience in a dance studio taught her much more than dance.  Through dancing, she has been inspired to dream big.
Kate Gawlick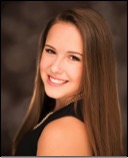 Kate Gawlick has been dancing and tumbling since the age of three. She was a competitive tumbler; competing in M.A.T.S. tumbling meets until becoming a judge. Kate is a graduate of Shawnee Mission South High School. She danced on the SMS Dance Team, the Pacesetters for four years. She was also a four-year member of the Varsity Gymnastics Team and a captain. Kate is a studying early childhood education at Johnson County Community College. Ovation students love Kate's positive attitude, enthusiasm, and passion for dance and tumbling. We are excited to have Kate on the Ovation Dance Academy staff!
Makenna Dowling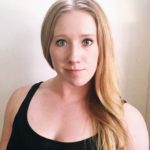 Makenna Dowling began her training at the Arvada Center for Arts and Humanities in Denver, Colorado under the instruction of Christina Noel-Adcock, Lisi Elsey, and Ashi K. Smythe.  Makenna was a senior member of the Arvada Center Dance Theatre, and she received twelve years of training in ballet, pointe, modern, jazz, and composition.  While training in Colorado, she had a dance teaching apprenticeship under Lisa Rebik.  She is currently in her senior year at UMKC in the Conservatory of Music and Dance, where she is pursuing a BFA in Modern Dance Performance and Choreography and a BA in English Literature.  She has had opportunities to perform works by Gary Abbott, DeeAnna Hiett, Mary Pat Henry, Ronald Tice, and Winston Dynamite Brown.  She has been honored to have several opportunities to perform at the Kauffman Center as a dancer with he UMKC Conservatory Wind Ensemble in productions of West Side Story and On the Waterfront.  She is currently producing her first show and has aspirations to start her own dance company that connects the artistic community with local veteran and law enforcement communities.  She looks forward to her first year of teaching at Ovation Dance Academy!
Savannah Smith began dancing at the age of three at United Dance. She trained in tap, jazz, musical theatre, lyrical, hip hop, and clogging. She was a competitive dancer for eight years. Savannah was a member of the Shawnee Mission South Pacesetter Dance Team for four years.