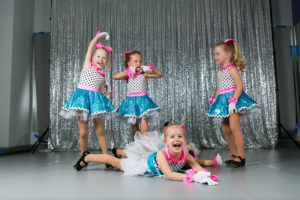 Welcome to Ovation Dance Academy!
ODA is conveniently located in charming Mission, Kansas. We offer a wide variety of dance classes for all ages and ability levels. The studio was given the name Ovation because we believe every dancer deserves a standing ovation! Our teachers have an interest in providing a positive and nurturing environment where dancers are free to learn, grow, and explore!
At Ovation Dance Academy, we strive to provide each individual student with the tools they need to succeed.  We recognize every child's unique learning style and potential.  Goals are set for the individual child, rather than an entire class.  We want each child to walk away feeling confident and knowing they were able to do THEIR best and reach their unique goals.
ODA is owned and operated by director and instructor, Alex Hess. Ovation Dance Academy has been a dream of Alex's all of her life, and she loves sharing her talent and passion with all of her students. Alex began her dance training as most dancers do, in a pink tutu at four years old. She quickly became passionate about all styles of dance and was no stranger to the stage. Alex loved any opportunity to perform whether it was in dance competition, community event, or a musical! As she grew up, Alex began to realize her talents could extend beyond the stage. Alex took on the role of dance teacher and choreographer while she was still a high school student! As a captain of the Shawnee Mission South Varsity and Junior Varsity dance teams, she was able to begin honing her leadership skills that continued to develop as a captain and choreographer for the Baker University dance team. She led her team to their first NAIA national dance championship. After receiving her degree in Exercise Science from Baker University, Alex began teaching, choreographing, and coaching in the Kansas City area. She has been the head coach of both the Shawnee Mission South Pacesetters and the Blue Valley Southwest Glitter Girls. Her choreography has been seen on stage at local and national dance competitions and musicals. She is known for her passion and love for dance and her students.
Now that you know a little about us, we want to get to know you! Please send us an email or give us a call, and we will be ready to help place you in the perfect class!
For questions or more information please contact us at [email protected]